Free Shipping on All orders Over $275.00 No HazMat Fee or Handling Fees
Calibration Gas Cylinder Orders Under $275.00 Ship for a Flat FedEx Ground Fee of $34.99
(Includes Haz-Mat and Shipping for $34.99 Total, No Hidden Handling Fees)
Regulators and Cases Ship FedEx Ground For Free
Expedited Shipping / Overnight Shipping Available
Expedited Shipping: Your order in many cases can be expedited to a FedEx 2Day or an Overnight delivery. Call us directly for expedited shipping options/pricing 888-349-6042.
PLEASE NOTE: All MAJOR CARRIERS REQUIRE A SIGNATURE ON ALL PRESSURIZED CYLINDER ORDERS
Since this product is considered HazMat by all major carriers we are not able to ship to an APO, FPO, DPO, or P.O. Box address.
All products must be shipped within the Contiguous United States, Cal Gas Direct Inc does not ship Internationally.
All products will ship FedEX ground by default. Ground shipping takes approximately 3-6 business days depending on ship to location. Other ship methods may be available depending on the Product, Please contact us for shipping options.
Use Coupon Code "freeship275" to ensure free shipping over $275.00
United States customers outside the Continental United States, such as Hawaii or Alaska, will incur additional shipping costs. We will contact you before any additional charges are processed.
*Free Shipping is not available outside the Continental United States since all shipments outside of the Continental United States must be shipped via air, such as Hawaii or Alaska.

Please note our internal SKUS may differ than the manufacturers
The Majority of our Calibration Gases are Blend to Order (BTO) to ensure the longest shelf life.
Standard Lead Time for Production is as Follows:
| | |
| --- | --- |
| Reactive: | 3 Days |
| H2S or H2S Mixes | 2 Days |
| Non-Reactive | 1 Day |
Shipping Locations:
Oldsmar, Florida
Pasadena, Texas
Instructions on returning ecosmart™ cylinders:

A New Process For
Free Return Shipping
Thank you for participating in the ecosmart program and taking the leap in becoming "Earth Conscious".
For your benefit, we streamlined the process to obtain return labels for ecosmart cylinders. No more waiting for e-mails!
1. Go to www.gascogas.com
2. Click on the ecosmart returns button (located in the top right hand corner)
3. Complete Form (allows up to 4 Labels a form - each box cannot exceed over 80 lbs.)
. Label is ready to Print (SEE message box at top of page to print after completing form)
For any questions about this new process, please call 1-800-910-0051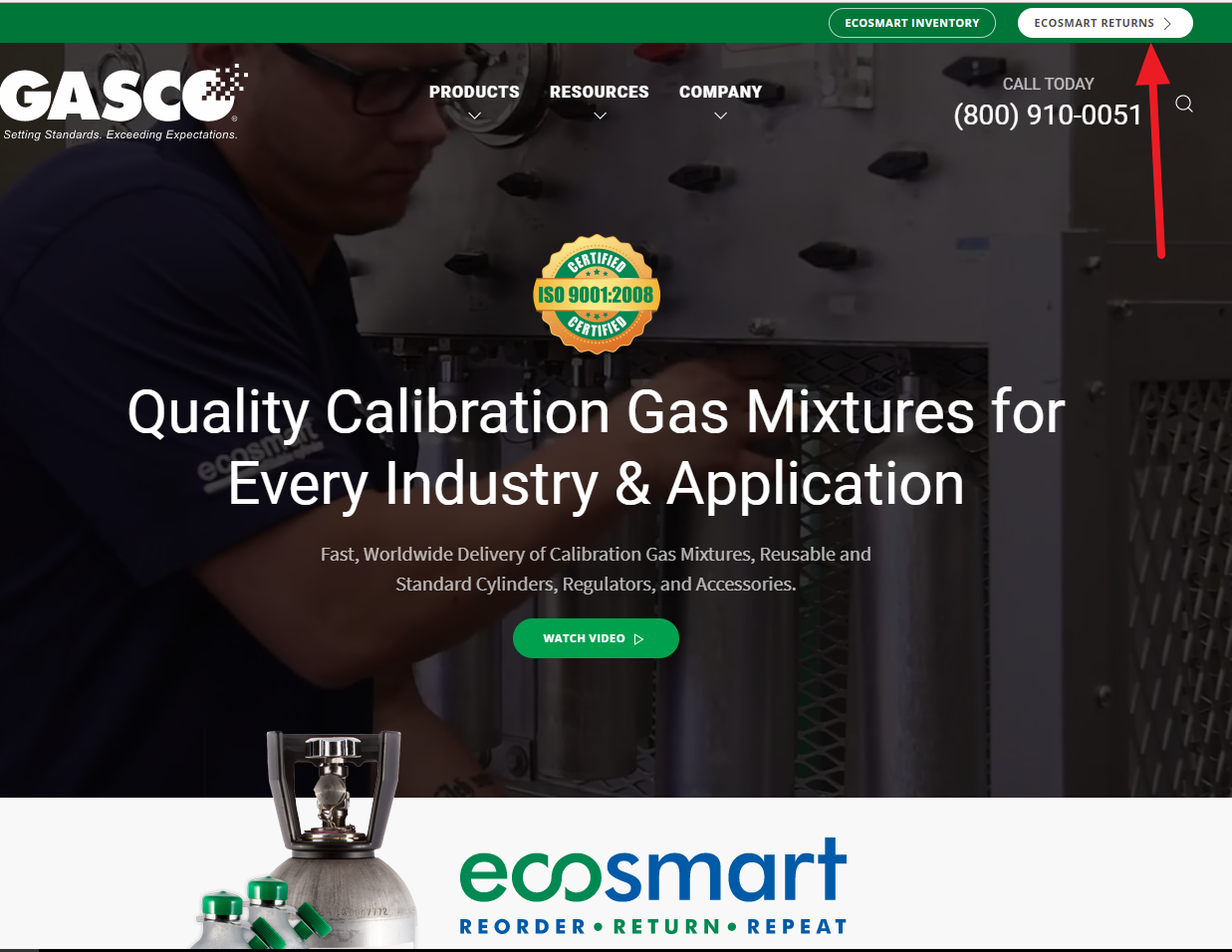 Since most cylinders are non-refillable, GASCO ecosmart cylinders must meet requirements set forth in the Department of Transportation's Part 39 Regulations. Part 39 prohibits filling these cylinders with toxic gases.. The walls of a steel cylinder expand if refilled causing unstability of the gases inside. An aluminum ecosmart cylinder is specially treated and has a thicker wall that meets DOT standards for refilling. It is also easy to Ship empty cylinders back to GASCO for refill at no cost to you by going to the GASCO website and printing out a FedEx no charge return label. Ecosmart cylinders cannot be taken to any other location for refill.